The system can be used as a standalone by importing its trade data or fully integrated for transactions originating from the Ryedale Platform. The Transaction Cost Analysis (TCA) tools analyze the complete trading history and pinpoint the costs of execution both explicit and implicit.  
Solution capabilities
The Ryedale's Transaction Cost Analysis Solution allows anyone who trades or monitors trading to:
Decompose trading costs into implicit and explicit costs to evaluate trade execution.
Incorporate models for estimating market impact, considering volumes and volatility.
Monitor brokers to ensure execution quality.
Compare execution quality across any risk dimension (e.g., country, sector, style).
Produce reports evaluating trade costs over any time period or any number of funds.
Estimate potential trading costs to monitor added value.
Key benefits
Helps minimize trading costs by providing greater transparency into trading performance.
Improves the efficiency of trading workflow processes by identifying operational issues that contribute to trading costs.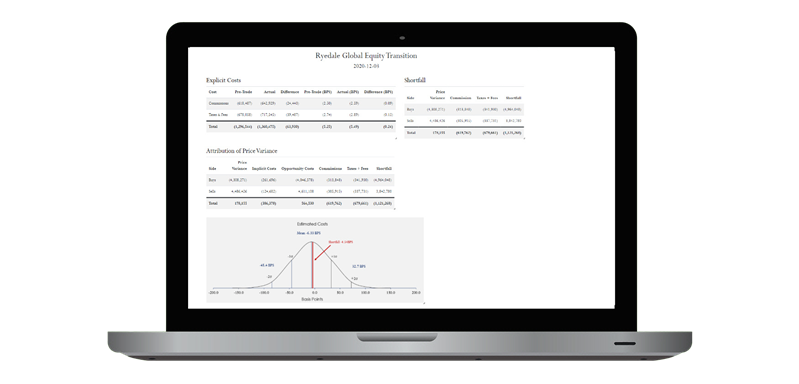 Ryedale Transaction Cost Analysis Solution
Contact us to learn more.
IBOR | Index Portfolio Management | Order Management | Asset Allocation | Transition Management | ETF Basket Management | Compliance